Top Advertising and Marketing Agency in Michigan
At KARMA jack Digital Marketing Agency, we help customers grow their companies, get new customers, and ease the frustration of digital marketing. Our dedication to our clients has led us to be considered a top advertising and marketing agency in Michigan by companies that review agencies, performances, portfolios, quality of service, review scores, interviews, ads performances, and more. 
As an example, Clutch, a B2B guide of top companies, listed us as a leader in advertising and marketing in Michigan! They also named us in their recent annual report of top service providers, and we could not be more proud.
Our CEO has a few words regarding our new title: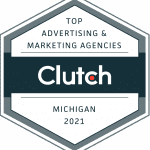 Clutch is a Washington, D.C.-based ratings and reviews platform that connects business buyers and service providers. They do this by analyzing thousands of service providers based on client reviews, market presence, and work experience.
Analysts at Clutch have talked with our previous clients to gather more information on our advertising and marketing solutions. Using either a phone or online review process, our clients have given us a perfect 5-star rating. Below is a quote from one of our satisfied clients:
"KARMA jack went above and beyond in coaching us through what the digital space is about. -Executive Director, Veteran Nonprofit
In addition to Clutch, we have been recognized over a dozen times by sites that review and publish top service providers in the USA. Here is a shortlist of marketing awards and recognitions KARMA jack has recently received: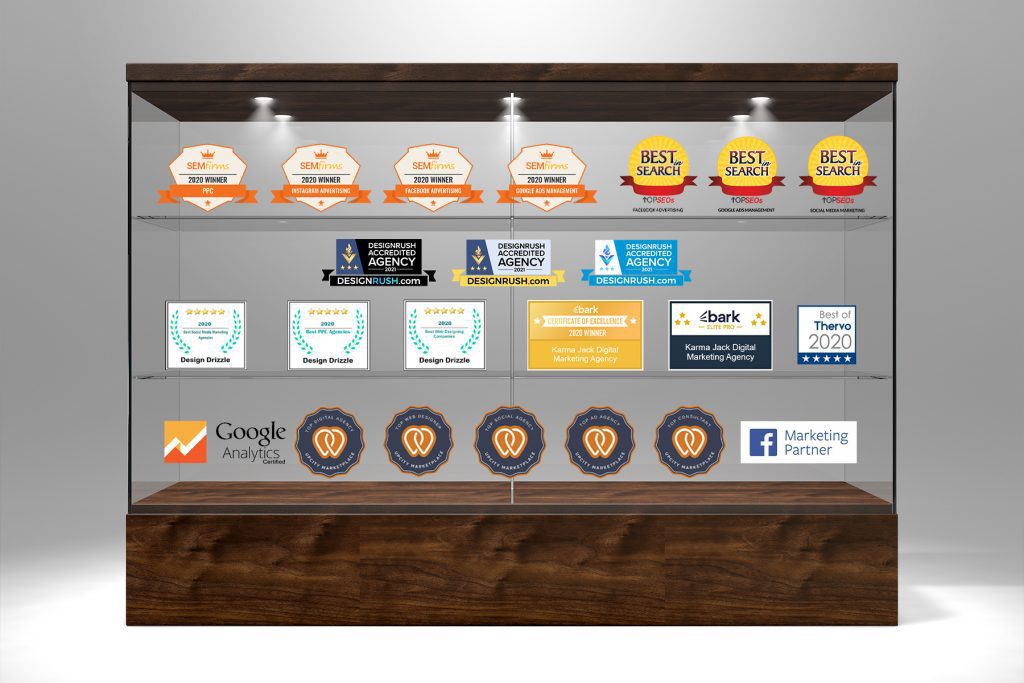 WHAT ARE THE BEST MARKETING COMPANY ONLINE PROCESES?
Being recognized as the top marketing company online is an honor, but what matters most is what we do for our clients. Our goal is to be difference makers. We understand every client has unique needs and it's our job to guide them to achieve their goals. That's it. It's a very simple approach and it works!
We take a very unique approach to how we help companies with advertising and marketing. Our leadership team comes from a background of business growth and we focus on understanding how we can get you the best returns on your investments. When you request a free marketing consultation, you will not get a sales pitch. Instead, we focus on your needs. Believe it or not, we don't work with everyone. We believe your marketing agency and your business should be a perfect fit. 
Here are some of the things we look at when you request a free marketing consult: 
GOALS AND OBJECTIVES OF MARKETING
Understanding your goals and objectives of marketing for your business is a good place to start when building out a marketing plan. We like to pull it back a little further and understand your entire company goals. The vision and mission of your company are critically important to know. What is most important to you, your business and your staff? Where do you want to take your company and how quickly do you want to get there? What do you think is working and what are some areas of opportunity? 
We like to know who your competitors are so we can help provide you with insight on what they are doing that is working. If you are a business leader, you're probably very competitive and we like to help steer you down a path that helps you crush your competitors. The competitive analysis we perform will help you make smart goals for the future. 
Our process is to gain an understanding of how you can beat your competition. Later, if we work together, we dig even deeper into your competition. We build a strategy that includes a path to win.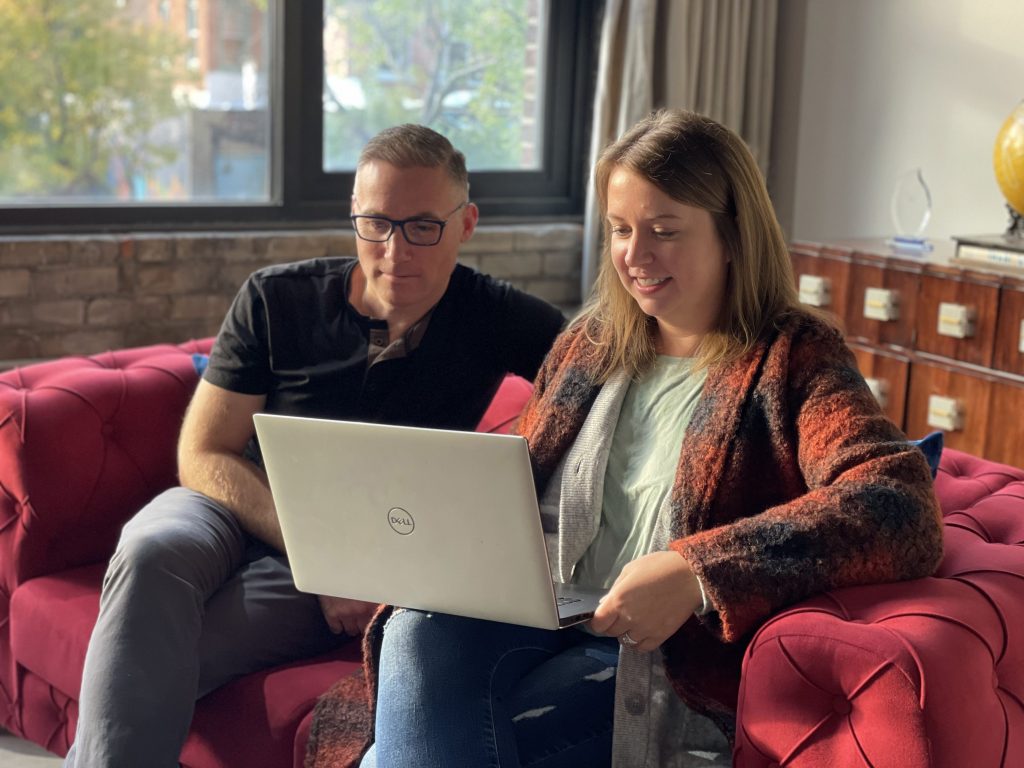 Marketing profitability is your company's total revenue divided by your total advertising and marketing spend. This includes staffing costs, traditional marketing, tradeshows, digital marketing, and all advertising. Every company has different profit margins and revenue streams. 
Revenue is important but profit is even more important.  What are your most profitable products and services? How can your marketing agency help you grow your most profitable areas with the least amount of cost? Unless you're a non-profit, you're in business to make a profit. We like to help you get there. 
Have you analyzed your most profitable products or services? If not, that's ok! We can help you sort that out. We helped one organization save over $1,000,000 and another company saved over $500,000 in wasted marketing spend. It's our goal to help you achieve your revenue goals in the most profitable way possible. 
WHAT DOES A MARKETING AGENCY DO?
There are many types of marketing agencies because the topic is extremely broad. One way to search for a company is to review your goals, understand where you need help, and then start searching for the top agency in that field. 
However, marketing can get very confusing very fast. KARMA jack is ranked as the Top Advertising and Marketing Agency because we are considered a full-service company. Our team is built of marketers that specialize in each online marketing niche. That's right, each staff member specializes in an area of awesomeness for them while your dedicated account manager strategizes with you for the best return on your investment. Here are a few areas 
SEO

SEM

PPC

Email management

Text/SMS marketing

Google Ads

Facebook Ads

Instagram Ads

Social Media Marketing

Snapchat Ads

Shopify management

TikTok Ads

Web design

Website development

Graphic Design

Photography

Videography

Affiliate marketing

Influencer marketing

Copywriting
MARKETING AGENCY VS IN-HOUSE
Are you considering hiring a marketing agency vs in-house staff? 
Meet Hannah! She is one of our awesome Account Managers. Have you ever wondered if a marketing agency can actually care about the work they do as much as an in-house employee? Wonder no more! Hear what Hannah has to say about what it means to work with her clients. 
You would be shocked at the cost savings of hiring an affordable digital marketing agency vs hiring a full-time employee. When potential companies request pricing from KARMA jack, they are surprised at the value of work related to the costs. Typically, full-service clients gain the benefits of having an entire team of experts but pay a fraction of the cost of one employee. 
In-house marketers require management. They are likely skilled in one or two areas of marketing but will struggle with all areas of marketing because each area requires a different skill set. 
As an example, a top PPC (Google Ads) manager will be very analytical and likely a little introverted. They pay attention to detail and enjoy the never-ending challenge of pushing to get better results than the month before.
Conversely, a social media manager will be very creative and in-tune with potential new customers. They tend to be extroverted and enjoy engaging with others. They might struggle with analyzing data the way a PPC manager would.
Do you see how these two specialties require different types of people? This is why a digital marketing strategist oversees your account when we work together. Your account manager ties everything together. They analyze the data, provide guidance to your new team, and report to you along the way. This frees up your time which provides you with the opportunity to channel your energies in what you do best!
YOUR DREAM, YOUR GOALS, YOUR VISION
You are looking for a top digital marketing agency for a reason. Maybe you own an e-commerce company and want to take it to the next level. Perhaps you run a dentist's office and need more patients. Or, maybe you are a B2B company looking for more leads because what your'e currently doing isn't working. 
Let's have a conversation and get a better understanding of your marketing needs. A KARMA jack strategist will sit down with you and help you uncover the best way to achieve your goals. We'll take the time to review your needs and it's a completely free conversation. We never hard-pitch you because we believe in giving freely. Those who want to work with us will do it because it makes sense for them. 
Click here to for your free marketing consult today. 
MICHIGAN MARKETING & AD AGENCY LOCATIONS
KARMA jack Digital Marketing Agency
Detroit Location
470 Brainard St. 
Detroit, MI 48201
Phone: +1 (800) 457-7751
KARMA jack Digital Marketing Agency
Flint Location
328 N. Grand Traverse St. 
Flint, MI 48503
Phone: +1 (800) 457-7751