Mailchimp Vs Sendinblue:
BATTLE ROYALE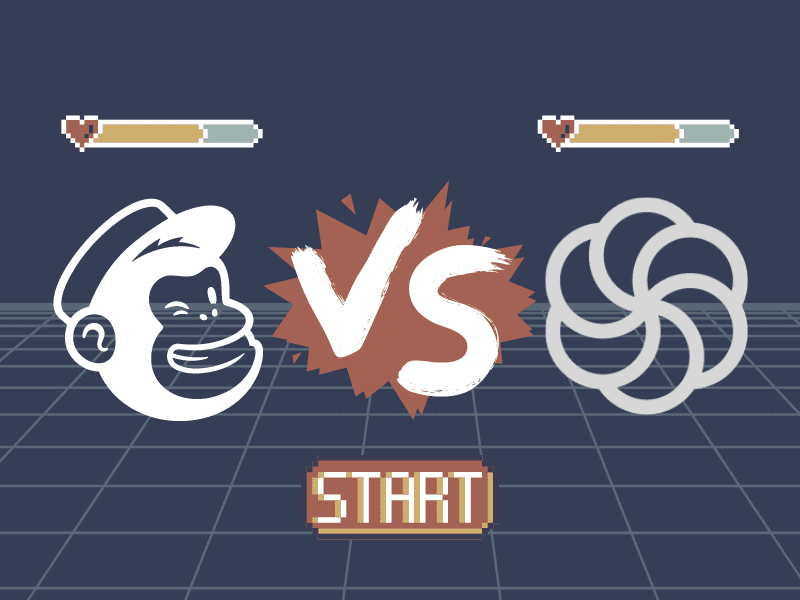 Welcome to E-Mail Marketing Fighter! The 16-bit adventure where we decide which email marketer is the supreme ruler of the universe and which will descend into the pits of heck.
But, what is email marketing, and why are we forcing the marketers to fight to the death? Email marketing is a potent marketing channel. It's a form of direct marketing that sends promotional material directly into your customers' (and prospective customers') inboxes.
It is now one of the most popular marketing strategies, partly because it forces users to act. For example, an email will sit in the inbox until it's read, deleted, or archived. Email marketing is also one of the most cost-effective tools available. For every $1 spent, email has an average return on investment of $38. That ain't too shabby.
Since email marketing is such a lucrative field, of course, several competing email marketing tools have sprung up over the last few years. These tools allow marketers to create, send, test, optimize, and report on their email campaigns. But which email marketing tools will work best for you? Are they expensive? Why do they have to fight? Can't we all just get along?
No. There can be only one.
Mailchimp was founded in 2001 by Ben Chestnut and Dan Kurzius. According to the company website, "Mailchimp was designed as an alternative to the oversized, expensive email software of the early 2000s. It gave small business owners who lacked the high-end tools and resources of their larger competitors access to technology that empowered them and helped them grow." Now, Mailchimp sends over ten billion emails per month! And in 2021, it was acquired by Intuit (the same people who send you your paycheck with Quickbooks and do your taxes with TurboTax) for about twelve billion dollars.
Mailchimp is currently the most popular email marketing provider in the world, controlling 62% of the market share while recording 12 million active daily users. So they're the man now, dawg.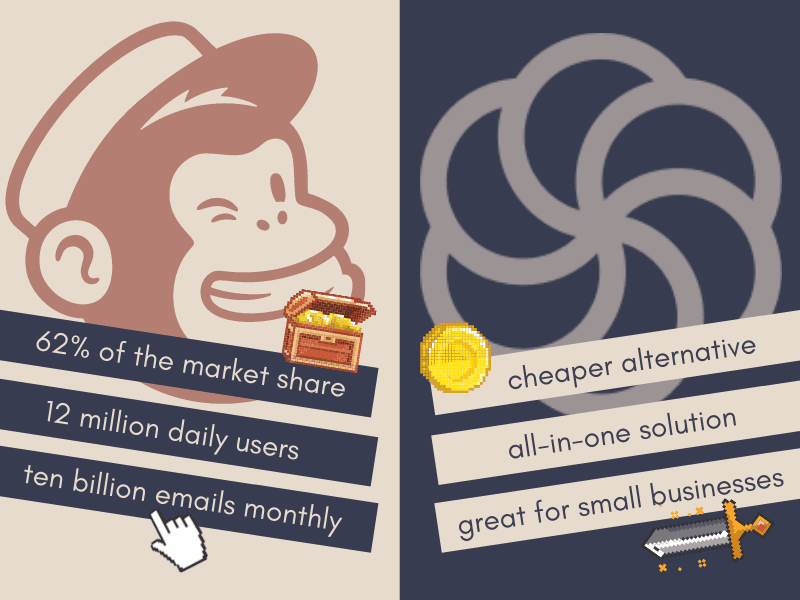 The challenger, Sendinblue, is an email marketing solution for smaller businesses. It's designed to be a cheaper alternative to the relatively pricey Mailchimp. Sendinblue was founded in 2012 and is headquartered in Paris. Here's how they describe themselves, 
"Sendinblue is the only all-in-one digital marketing platform empowering B2B and B2C businesses, e-commerce sellers, and agencies to build customer relationships through end-to-end digital marketing campaigns, transactional messaging, and marketing automation. Unlike other marketing solutions built for enterprise-level budgets and expertise, Sendinblue tailors its all-in-one suite to suit the marketing needs of growing SMBs in tough markets."
A lot of acronyms in there. The main one to know is "SMB," which stands for "Small to Medium Business." 
So we have a bit of a David versus Goliath here (or Johnny Cage versus Goro). But which will come out victorious and which will fold under the weight of your controller?
Time to…
Mailchimp comes out swinging with a flurry of attacks! With its special meter full, Mailchimp lands its first moves…
Great Design – Mailchimp is a vast, expensive company whose design reflects that. Their ready-made email design templates are gorgeous, and there are a lot of them! Mailchimp has over 100 email design templates that are mobile-responsive (meaning they still look good on your phone) and are easily customizable.
Integration – Mailchimp integrates with a crazy amount of tools. What's that, you say? List them all? Sure thing! Google Analytics, Pipeliner CRM, ClinchPad, Provide Support Live Chat, Planyo Online Booking System, Deal Maker, LiveChat, Insightly, Mautic, RealtyJuggler Real Estate Software, TrenDemon, Teamgate CRM, Yapsody, SoClever, TeamSupport, Boingnet, Survicate, Miva Merchant, Devart Excel Add-ins, FreshBooks, Freshdesk, Zyprr Inc, Skyvia, Scoro, Musqot Marketing Planner, Zoho Forms, LinkedIn Sales Navigator for Gmail, Aurea List Manager, 123FormBuilder, JRNI ***INHALES DEEPLY*** Believe it or not, I did not make up any of those names.
Relatively Generous Free Plan – Their free plan offers 2,000 contacts and 10,000 emails per month. And hey, if you're a tiny business, this is great! It allows you to use most of their services without paying a dime. That's A+ material in our book.
Analytics – With Mailchimp, you get all your marketing data in one place and updated in real-time. This includes email, automation, and social ads data. Mailchimp also allows you to track sales from an email click, all the way to purchase and identify which customers purchased what. This is where Mailchimp has a clear advantage.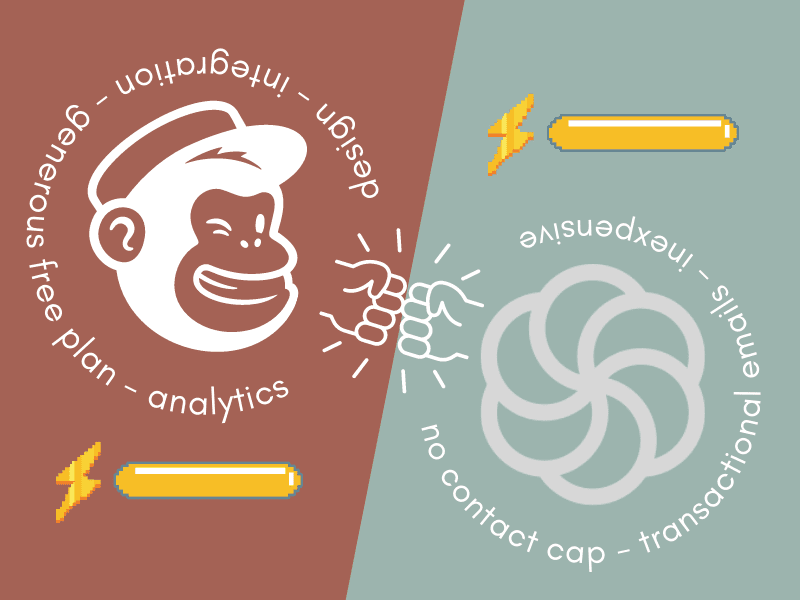 Sendinblue's health bar is low, but a sliver remains! So, they press "down, back, B" and counter with…
No cap on contacts – This is many peoples' most significant complaint with Mailchimp. They have a cap on contacts, even at their most expensive price point. However, Sendinblue offers unlimited contacts even at their cheapest price point. This allows you to do more with less.
Transactional Emails – Yes, Mailchimp offers transactional emails, but they're expensive and clunky. Sendinblue, however, provides a bevy of pre-made templates. Or, you can start from scratch with the super-simple drag & drop editor (an easy-to-use feature across all of Sendinblue). You can then personalize as much as you'd like. Maybe you want to include some dynamic content like contact info or order details. 
User Experience – Sendinblue is great for beginners in the email marketing field. If you don't want too much complexity, this is an easy-to-use tool that won't overwhelm you. You can find out what's going on with your contacts, how your emails are performing, and much more from the homepage dashboard. It's also effortless to add contacts to your list with the ability to do it in bulk with a CSV file.
Price – Though both Mailchimp and Sendinblue have free options, once you have to start doling out the cash, Sendinblue pulls out ahead… or behind? It's cheaper, is what I'm trying to say. And since SIB doesn't cap contacts, this is an excellent option for those with a high number of contacts but send just one or two emails a month. 
List Management – The lists setup and segmentation process is super easy. You can filter contacts by field behavior or contact criteria and sort out your lists by adding multiple conditions. Specific conditions can be put so that when subscribers sign up, they can be included within a particular list through automation. Easy peasy.
Uh oh, Mailchimp wasn't expecting the counter, and now its weaknesses are revealing themselves…
Support – This is nonexistent if you have the free plan. That's a bummer. Like, it's nearly impossible to get help unless you pay… what is this, the American Healthcare system? 
Price – Mailchimp now charges users for unsubscribed contacts. Those who haven't confirmed opt-in can make this provider quite expensive, which is a massive turn-off for many marketers and small business owners. They're not necessarily the most costly on the market, and once again, their free service is relatively robust, but the more benefits you need, the more expensive it gets and begins to be outpaced by its competitors.
No Free Email Scheduling – If you're an email marketer, the most important thing you do is probably schedule emails. And the fact that there isn't email scheduling in the free version is a bummer.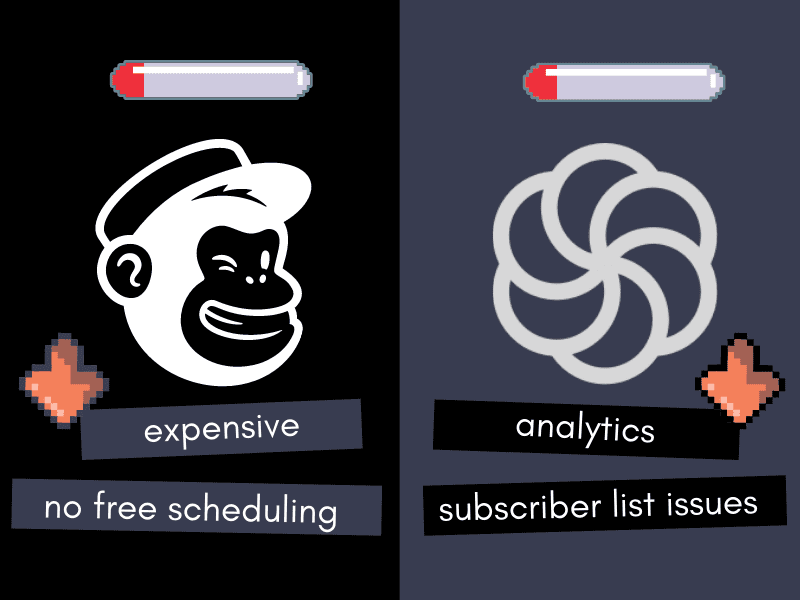 Both fighters are showing their weakness. Their health bars are low. The next hit wins…
Subscriber Lists Problems – Many folks have reported issues when uploading contact records. The process has been described as "both unsteady and somewhat convoluted." With Sendinblue's manual input, you can't add custom fields, but you can with uploads or from a submission form.
Analytics – While Sendinblue's reporting suite does include a lot of crucial insights and Google Analytics integration, it lacks social and conversion data. This is a huge problem, especially for small businesses that rely heavily on that info. But if you're not a numbers-head, I wouldn't worry too much about this.
Suddenly, from over the horizon…
A NEW FOE HAS APPEARED!
CHALLENGER APPROACHING…
A New Fighter Has Entered the Arena: Klaviyo!
Klaviyo is a new email marketing tool that focuses on increasing Return On Investment rather than sending more and more emails. They are known for enabling your brand to build unlimited high-value relationships through email, mobile, and the web. Klaviyo was Founded in 2012 by Andrew Bialecki, who is now the company's CEO, and Ed Hallen. They utilize their software to analyze a customer's transactional and behavioral data. Then, use this insight to help companies create custom user experiences and send more traditional targeted email and SMS marketing.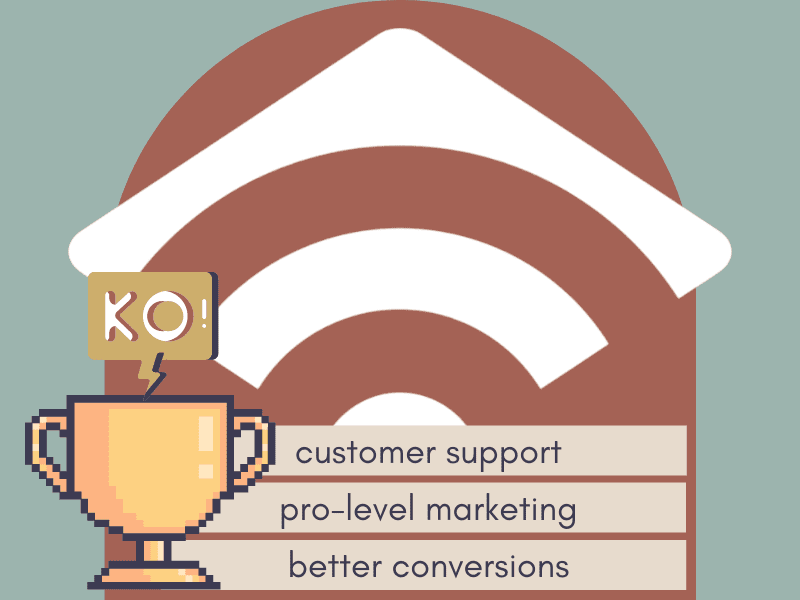 With its opponents weakened and its special meter full, Klaviyo unleashes a C-C-C-C-COMBO!
Pricing – While initially, it seems that Klaviyo is the pricier option (there isn't a free option outside of a trial), its pricing is straightforward. Everything is included from the jump, and you won't have to upgrade for a feature you desperately need. Basically, you only pay for the email contacts and SMS messages your business needs. This means no annual contracts or hidden fees, or those secret required add-ons. You're in control of the budget for your account. And you choose which channel is best for your business, whether you utilize both email and SMS or either one separately.
Pro-Level Marketing – Klaviyo's email builder is built for pros. It's designed for people who know what they want to achieve with an email, which means it's highly customizable. So it's great for brands that already have an identity. Obviously, this means a steeper learning curve for beginners, but the results tend to be larger and lead to more conversions.
E-Commerce Integration – For businesses that already have an e-commerce operation, Klaviyo is ready to connect your email marketing to your existing Shopify account. In fact, this is why most people choose Klaviyo over its competitors. They're most interested in directly incorporating sales into their emails.
Testing Variations – Klaviyo offers the same A/B testing as Mailchimp and Sendinblue but with more variations. While Mailchimp users can try three variations of each email on a standard plan, Klaviyo allows for seven variations, no matter what. So, if you're into testing seven unique versions of an email, you can do that without paying a premium on Klaviyo's platform. Whereas Mailchimp makes you buy a Pro or Premium plan.
Customer Support – Klaviyo's help center is chock full of advice for everything you need. Whether it's metrics or reporting, or email deliverability, it's a breeze. And they have chat support between 9 am and 5 pm ET from Monday to Friday. They also have email support from 6 am to 10 pm on weekdays or between 10 am and 4 pm on weekends.
Better Conversions – This is Klaviyo's whole deal. Sure, they have good features, but the bottom line is that you're marketing to make that skrill. Top-performing brands using Klaviyo to optimize abandoned cart emails have experienced an increase in cart recovery of up to 400%. This is by design. Rather than trying to be a jack of all trades, Klaviyo is focused on being the money marketer. Their whole system is designed for conversions.
Especially if your primary focus is converting leads, Klaviyo can't be beaten. It may be a bit more expensive, to begin with, but Klaviyo boasts that businesses earn $85 on their Shopify stores for every $1 they spend on email marketing with Klaviyo. While Mailchimp and Sendinblue each have their perks, if you're looking for a professional-grade email marketing tool, we recommend Klaviyo over the others.
Email Marketing Tips and Tricks
Of course, any marketing tool is only as good as the marketer that uses it. So, rather than enter an ancient Kombat arena to fight your way through increasingly difficult foes, why not entrust your email advertisement to the Marketing Thunder Gods at KARMA jack? We know all the cheat codes to help your business grow (our mom got us a Game Genie for our birthday). Feel free to get in touch, and we'll see you in the arena.