To be a successful marketing agency, understanding industry best practices is paramount. It's crucial as a service provider to ensure the quality of services that clients receive, which cannot be done without understanding the fundamentals. In doing so, agencies can lay the groundwork for better results and, in turn, better yields for clients.
Here at KARMA jack Digital Marketing Agency, we employ the most effective and efficient strategies that lead our partners to:
Growing their company

Getting more loyal customers

Eliminating the frustration of digital marketing
As we aim to provide advantages to our partners, we've recently received word that our team has been recognized as a leading PPC company in Michigan by Clutch, a company ranking site.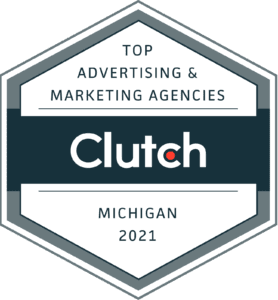 "It is a huge honor to be ranked as a top marketing firm in Michigan. We are grateful to be chosen!" 
— Joel Sellentine, CEO of KARMA jack Digital Marketing Agency
To give a clearer picture of what Clutch does, it is a B2B ratings and reviews site that helps connect small, mid-market, and enterprise businesses with service providers that fit their needs. Clutch offers the ability to leave unfiltered feedback to clients of a Clutch-registered vendor through direct interviews. Clutch, then, ranks companies based on the number of ratings and reviews — along with other factors — to acknowledge the highest-performing companies, also helping buyers in their market research.
This year, we've been recognized as a top advertising and marketing agency, and we're ecstatic and proud to receive this achievement. That said, this accomplishment couldn't have been possible without the support of our amazing clients!
Through your continued partnership, we've earned a total rating of 4.9 across eight reviews.
Take a look at what our most recent reviewer had to say about our work:
"I was impressed with their desire to learn our business."
— Tim Hampton, President & Owner, Game Day Signs
Find out more about this project by reading the full case study.
Let's get started on your PPC journey. Reach out to us today and tell us the challenges you aim to overcome.