Queer in the Fast Lane: Why Targeting Underserved Markets Works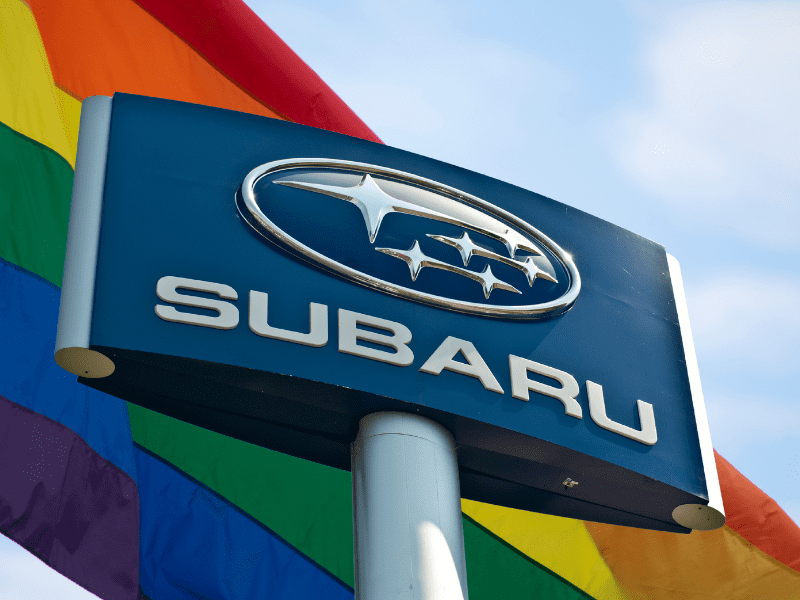 You may know KARMA jack as your digital marketing guru, your resource for all the tips and tricks to get the most out of your marketing strategy. But we also like to spotlight other brands, both the ones that get it right and the ones that missed the mark. Analyzing what works and what doesn't is how we learn best. Today the limelight lands on Subaru, a brand that has become synonymous with dependability. Their lasting success throughout the last few decades is thanks to an unconventional marketing method that had a positive impact, not only on their customers but on the entire U.S. advertising industry. 
Why Lesbians Drive Subarus, and Other True Stereotypes
The vehicles we drive are a projection of our identity. Every car brand comes with a slew of assumptions and stereotypes. If you drive an SUV you might be a parent who's ultra safety-conscious. If you own a Prius you probably care about the environment. If you drive a Chrysler Sebring Limited, your name is Micahel Scott and you manage a paper company. 
I drive a Subaru Outback. What do you automatically assume about me, based on that? Maybe that I love camping and the outdoors, that I have a dog, that I like a sturdy, reliable vehicle—or maybe that I'm a lesbian. There's this long-running joke that lesbians exclusively drive Subarus (which TikTokers have capitalized on shamelessly). Where did this stereotype come from? It isn't merely coincidental, but an association Subaru created deliberately through a progressive targeted ad campaign.
Finding A Niche Target Audience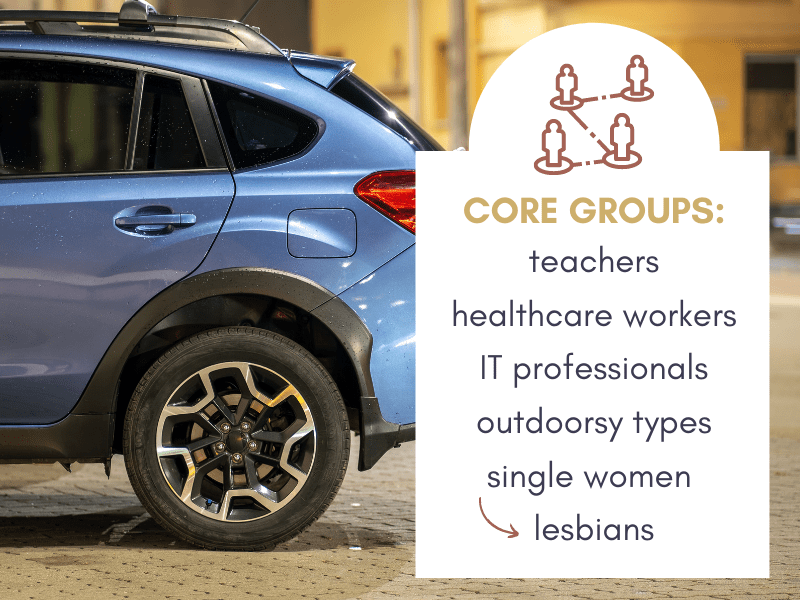 In the 1990s, Subaru sales were in decline. They couldn't compete with larger corporations for the attention of the main car-buying demographic (white, suburban 18-to-35-year-olds). So, they pivoted their marketing strategy to target more niche groups. Subaru's main selling point was its all-wheel drive and boxer engines capable of carrying heavy weight. These qualities attracted five core groups who made up the majority of the company's sales: teachers, healthcare workers, IT professionals, outdoorsy types, and single-woman households. Through market research Subaru discovered many of these single woman households were, in fact, lesbians. They chose to drive Subaru because the cars' features aligned with their active lifestyles. Lesbians were identified as a valuable customer base with significant buying power, and the company captialized on that.
The LGBTQ Community Was An Untapped Market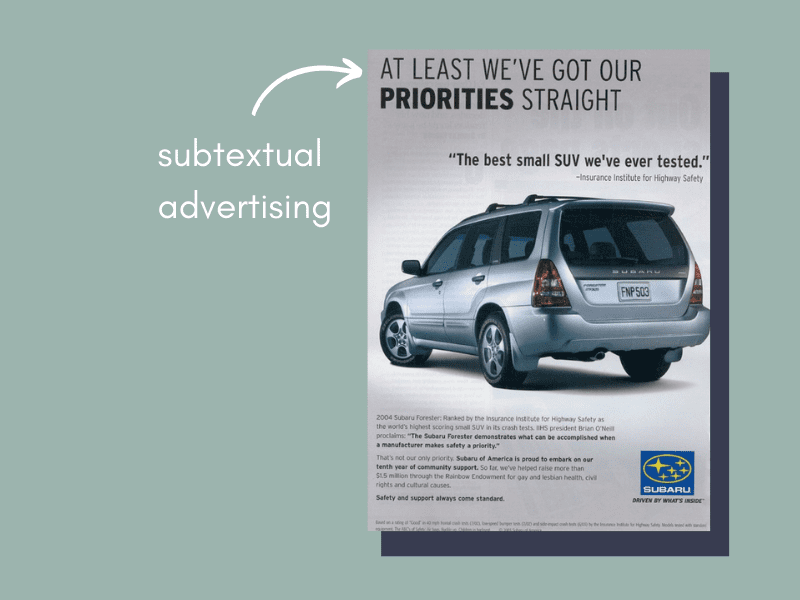 Subaru took a risk by launching an ad campaign targeted to the LGBTQ community. This was at a time when there was almost zero media representation of gay people. Politically, the community faced extreme stigmatization in the form of homophobic policies like Don't Ask, Don't Tell and the Defense of Marriage Act.
There was little public discussion of gay issues aside from coverage of the AIDS crisis, which pushed a message of fear and panic. Companies risked backlash if they included gay-friendly marketing. For example, in 1997 when Ellen Degeneres's character came out on the sitcom Ellen, several sponsors and advertisers dropped from the show entirely. The only brands that advertised to the gay community were "sin" industries like alcohol and cigarettes.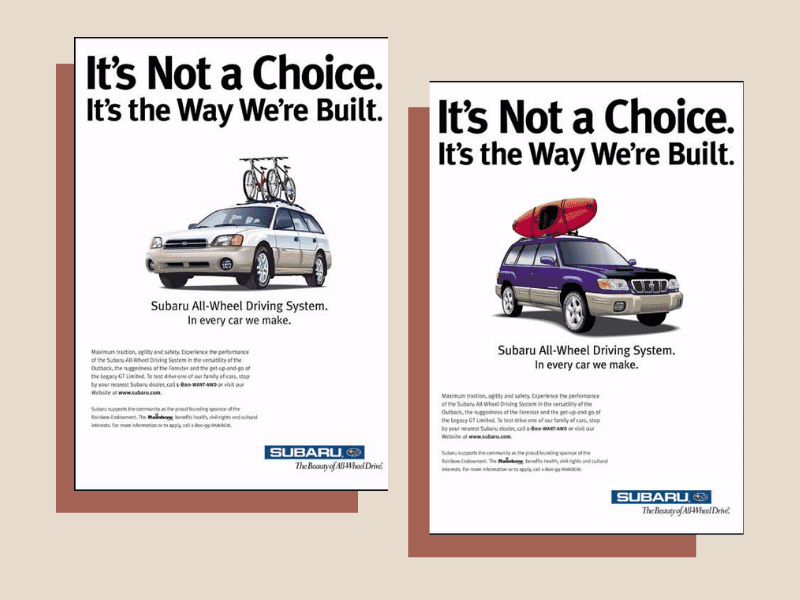 Subaru's most successful ads were ones that were coded with subtle hints to LGBTQ culture. For example, ads showed Subarus with license plates referencing Xena: Warrior Princess and Provincetown, MA. Taglines read as clever double entendres, such as "Get Out. And Stay Out." or "It's Not A Choice. It's the Way We're Built," engaging the target audience with playful wording, while heterosexuals seemingly missed the subtext. This also allowed them to reach queer audiences without fear of conservative backlash.
Subaru's targeted campaign helped bring gay and lesbian focused advertising into the mainstream, as companies realized that targeting underserved markets could potentially lead to massive growth. But the carmaker didn't simply market to gay customers—they made intentional efforts to uplift and support the community and show that it cared about its customers as people. They sponsored pride parades, contributed funds to HIV / AIDS research and supported LGBTQ charities. They hired tennis pro Martina Navratilova to appear in commercials and partnered with the Rainbow Card, a credit card that donated to gay and lesbian causes instead of offering cashback.
Why Targeting Niche Markets Works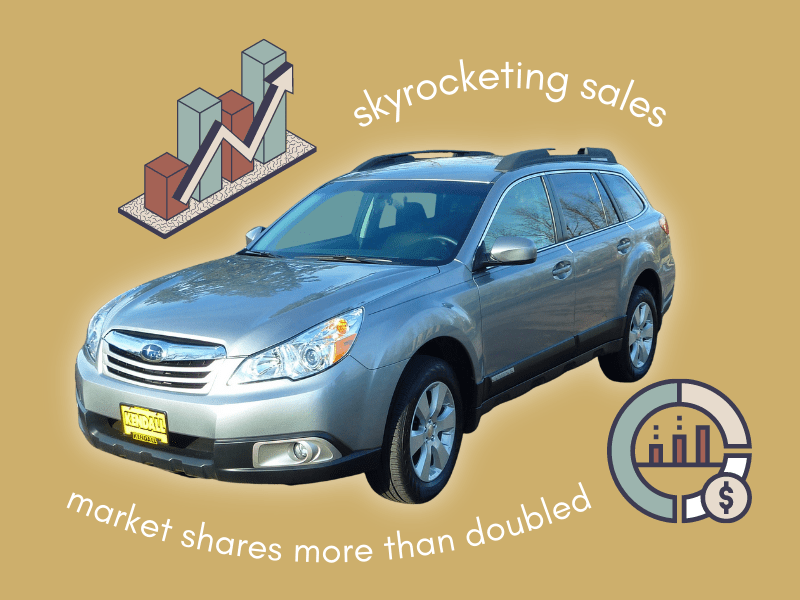 In the years following the campaign, Subaru's sales skyrocketed, and in the last ten years its market share has more than doubled. Other companies have hopped on the bandwagon of targeting the LGBTQ market, but it tends to be a brief-lived flailing for sales, particularly during June, which is International Pride Month. Brands release rainbow-colored merchandise in a facade of 'allyship' and then disappear. Subaru's campaign remained consistent, and succeeded because they forged a meaningful relationship with their customers. Their inclusive marketing strategy also resulted in a shift of attitudes internally. Employees felt more comfortable speaking about LGBTQ issues and company policies shifted to protect gay workers' rights. 
Subaru targeted a group of consumers that every other company was ignoring, and that ended up saving them from going under. This situation is an excellent example of the power of niche marketing, a form of marketing geared toward a specific population or demographic. It is much more effective to target a narrow group who is likely to resonate with your message and use your products, than to cast a wider net to a vague, undefined audience. 
What are some of the benefits of niche marketing? As a brand, you'll establish a deeper, more meaningful relationship with your customer base and build brand loyalty. Targeting niche markets also results in reduced competition and higher visibility. Without other brands crowding the ad space, you'll have the rare opportunity to establish yourself as a voice of authority and an expert in your field. There is power in being able to identify a neglected audience and respond to their needs.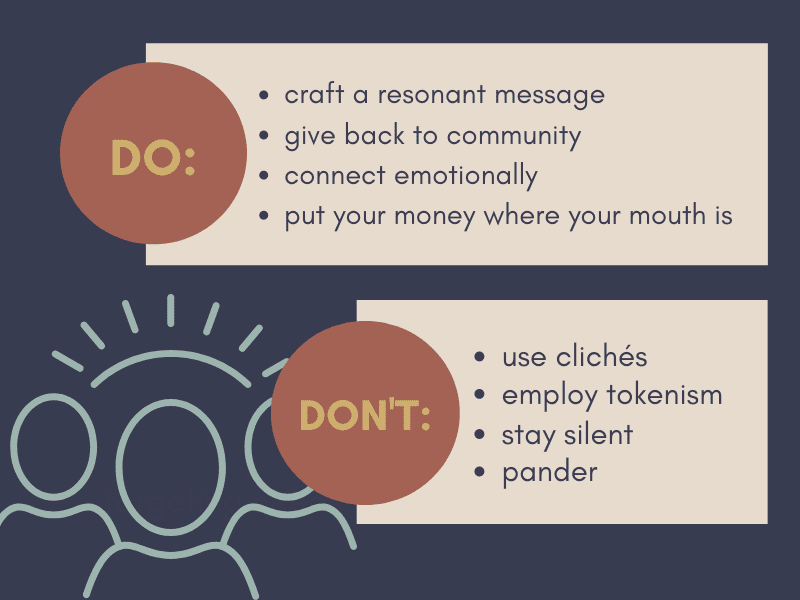 When targeting markets that are underserved, it is crucial to avoid cliches and tokenism, so that you'll be taken seriously. Develop a message that resonates with the person behind the consumer. It's not enough just to pander to your audience— how are you going to give back to the community? How are you going to connect with them on an emotional level and speak to them as people? How do you establish a relationship of trust and create an open conversation? How are you making an impact on people's lives? 
Today, brands are expected to address current political and social issues and to participate in the ongoing public debate. They are being challenged to demonstrate ethical and moral values, to use their profits and resources to help underserved and underrepresented communities. Brands are under scrutiny more than ever, and those who stay silent in the face of injustice and inequality are under threat of social cancellation. Subaru did more than just hustle an ignored group of consumers for their business, but recognized them as people. They put their money where their mouth is by supporting the community and paving the way for radical change in the marketing world. 
KARMA jack takes a page out of the Subaru book. How, you ask? We follow the data, and we know what works. We get to know your brand and voice, pinpoint your ideal target audience, and develop a killer digital marketing strategy guaranteed to get the results you deserve.