The Algorithm, Explained:
How AI Impacts Social Media Marketing & Tips For Optimizing Your Strategy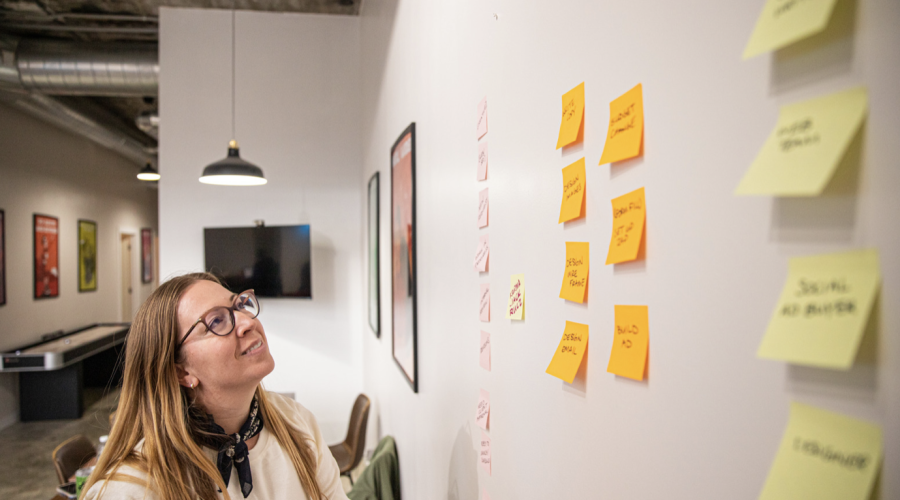 Ah, the algorithm. It's like the rubix cube of the Internet–a mysterious, mind-boggling puzzle just waiting to be solved. 
Most consumers don't even think about them, other than feeling weirded out when targeted ads follow them across platforms. For marketers and creators, it can feel like a constant uphill battle just to get your content seen when you don't understand how they work.
In this guide, we'll break down everything you need to know about social media algorithms and how to use them to your advantage.
What Is The Algorithm and How Does It Work?
On social media platforms, the algorithm is a set of rules that automatically ranks content based on how likely each individual user is to interact with it. Before algorithms, social media feeds displayed posts in reverse chronological order, with newer posts showing up first.
Algorithms collect data to deliver "relevant" content catered to a user's personal likes and interests. It works the same way as product recommendations on Amazon, or movie suggestions on Netflix.
Your Competition Is Using Social Media Marketing– So Should You.
If your business isn't on social media yet–well, this blog won't make a lot of sense, for starters. And secondly, where have you been?! 
No matter your demographic, the best way to reach your audience and build a meaningful relationship with your customers is through social media. It's an opportunity to get your business in front of new people and redirect customers to your website.
But keeping up with the demand for content is easier said than done. You need to be interesting, engaging, and relevant, and make sure you're posting at the right time. There are a lot of factors that go into what makes successful content and drives engagement. The best thing that you can do is experiment to see what works, and that means every post won't always hit it out of park with your followers. 
Luckily, AI can make your life a little easier when it comes to improving your social media strategy.
Benefits of Using AI in Social Media Marketing
1. Understand Your Target Audience
By wielding the power of AI in your social media marketing strategy, you'll get to know your target audience better. Most social media platforms have built-in analytics that show you how well your content is performing. You'll learn what your audience is interested in and what they want to see, which helps you deliver more effective campaigns.
2. Increased User Engagement
User engagement is one of the most critical metrics in social media marketing. The more users you can engage with your content, the more likely they are to take action–whether that's making a purchase, signing up for your newsletter, or scheduling an appointment. 
With the power of AI, you can figure out how often and when to post. You can avoid bombarding your followers with content or risking your posts getting lost in the shuffle. If a post has a significantly higher engagement rate over the others, take note of what stands out. These tactics will help improve overall engagement.
3. Enhanced Targeting
Targeting is admittedly creepy, but also a powerful tool in advertising. AI allows you to analyze consumer behavioral traits to target those truly interested in your products or services. AI can help identify potential buyers and navigate the best approach to turn a lead into a customer. By making your marketing efforts more specific, you'll spend less and get more bang for your buck.
4. Improved Overall ROI
Speaking of bucks–when it comes to social media marketing, the ultimate goal is to generate a positive return on investment. By using AI to your advantage, you can boost your ROI through increasing sales, improving customer service, driving engagement, and increasing brand awareness.
Tips For Optimizing Your Social Media Marketing Strategy With AI
Okay, so now you know the why, let's get into the how. Here are some tips to optimize your social media marketing strategy and make AI work for you. 
1. Post Quality Content
Algorithms are trained to bury content that appears misleading or spammy. Avoid clickbait headlines, captions, or hashtags. Make sure your message is clear, honest, and serves no hidden agenda. 
2. Offer Real Value
Adding value means providing education, entertainment or inspiration to your followers. Educate your audience with practical information and unique insights. Answer questions, solve problems, guide them toward their goals. Extra points if you can be entertaining and authentic at the same time.
3. Follow Trends
Trending topics keep people scrolling and engaged, so the algorithm likes serving more of that content. While you don't have to bandwagon every trend, if something emerges  that aligns with your brand, take advantage of it. Incorporating trending sounds and effects for TikToks and Instagram Reels is a great way to appear relevant and provide entertainment.
4. Post at Peak Times 
Perhaps the easiest way to gain favor with the algorithm gods is to post during peak hours. Generally, the best times to post are:
Monday at 11 a.m.

Tuesday and Wednesday 10 a.m. to 2 p.m.

Thursdays and Fridays 10 a.m. to noon.

Sundays are the worst time to post.
Keep in mind that this may not apply to your specific audience, and it's a good idea to use analytics tools to predict when your audience is most likely to be online. 
5. Use Hashtags 
Adding descriptive and accurate hashtags to your posts is an effective way to increase your visibility. If the algorithm can recognize what your post is about, it will share it with people who are interested in that topic. Do some research on posts in your niche and use hashtags that make sense for your brand.
6. Post Videos
Social video generates 1200% more shares than text and image content combined.
Videos are more likely to spark interaction, encouraging viewers to comment, like, and share. It's the best way to deliver valuable information in a short amount of time, and in an entertaining format. 
Here are some general rules of thumb when posting videos: 
Shoot in a vertical position.

Don't use low-resolution videos.

Use all added features like music, filters, camera effects, etc.

Keep it short and sweet. 
7. Be Consistent
Whether you're looking to grow your followers, increase your reach, or boost engagement, you need to post consistently. Focus on quality over quantity. It's better to share 3 valuable posts a week than something meaningless every day. The best way to stay consistent with posting is to create a social media content calendar and schedule your posts ahead of time. (By the way, we can help with that.)
8. Experiment 
While we can give you tips to appease the all-knowing algorithm, there is no guaranteed formula for success. Try new things, see what works, and refine your strategy over time. Algorithms are constantly evolving, so marketers must learn to adapt. It's just keeping us on our toes!
Test different types of content and track to see which ones get the most reach and engagement. Top-performing posts are the ones that are favored by both your audience and the algorithm. Analytics tools will be your best friend for tracking performance and tweaking your approach.
You know how a magician never reveals his secrets? Yeah, we're not about that. We create the secret sauce, and then give it away to the world. Why? Because we want to help businesses like yours succeed! 
We hope the algorithm / social media matrix seems a little less confusing. And if this blog just made your head spin, contact KARMA jack Digital Marketing with your questions.