How To Run An Effective Ecommerce Email Marketing Account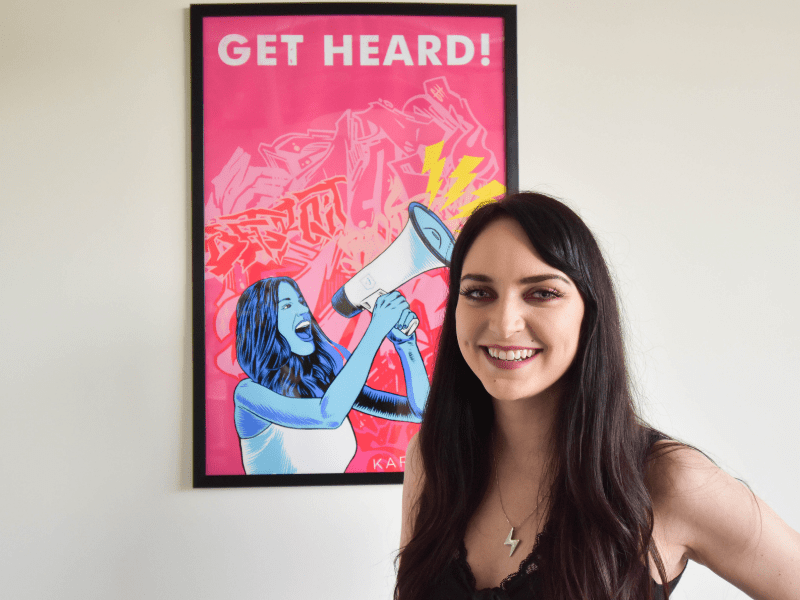 Email is still one of the most effective avenues in marketing, and it's especially important for those that are running ecommerce businesses. It's great for a number of goals including getting customers to visit your website, keeping up with promotions and news, and generating sales. 
Without a way to stay in touch with your audience they are likely to forget about your business, and email marketing prevents that from happening. We've created an in-depth guide to help maximize your email marketing efforts. Here is how to run an effective ecommerce email marketing account.
What sets ecommerce email marketing apart from standard email marketing is timing. It's not enough to just create great looking emails with smart, engaging copy. You have to build effective sequencing to send your email campaigns in the right order at the right times to the right audience. 
Without smart timing and sequencing, your email marketing will be a dud every time. Even worse, you risk bugging your audience and driving them away to other competitors. But if you create an effective strategy and your timing is right, you'll create brand loyalists for the long-term.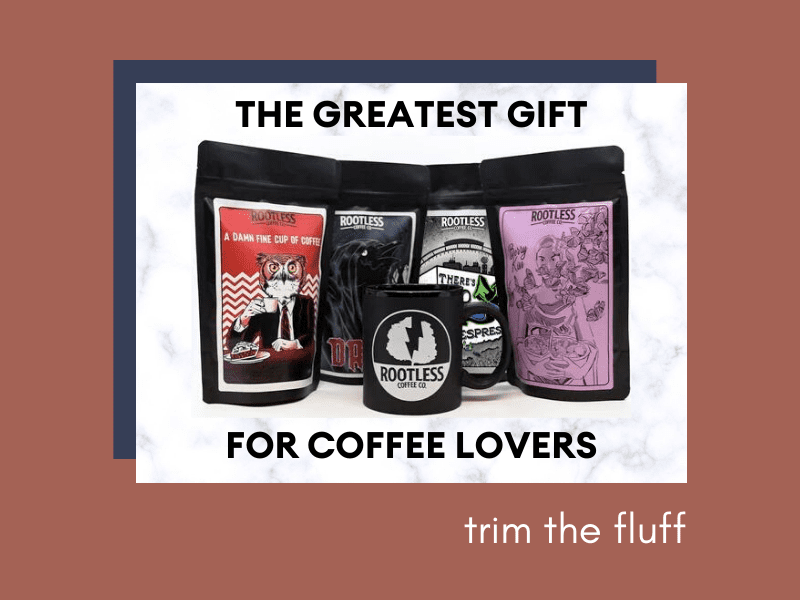 Before we jump into the different types of email campaigns you can use, there's one general rule that each of them follow: trim anything that isn't important. 
You're not the only business in their inbox, and time is precious. If you bog down your emails with tons of images, products, and lines of copy, they're going to take one look and delete it. That means you need to get to your main point quickly with your visuals and writing. 
Operate under the assumption that you have a few seconds at most to get your customers interested. Simplicity isn't a bad thing! It's actually what customers prefer. Keep that in mind as you move forward with your ecommerce email marketing. 
Types Of Ecommerce Emails
Now it's time to look at a wide variety of email marketing strategies you can use for your ecommerce business. Think of each one as a different tool in your toolkit that can be utilized under different circumstances. Choosing the right move will depend on what your goals are, and each of them have specific uses and benefits.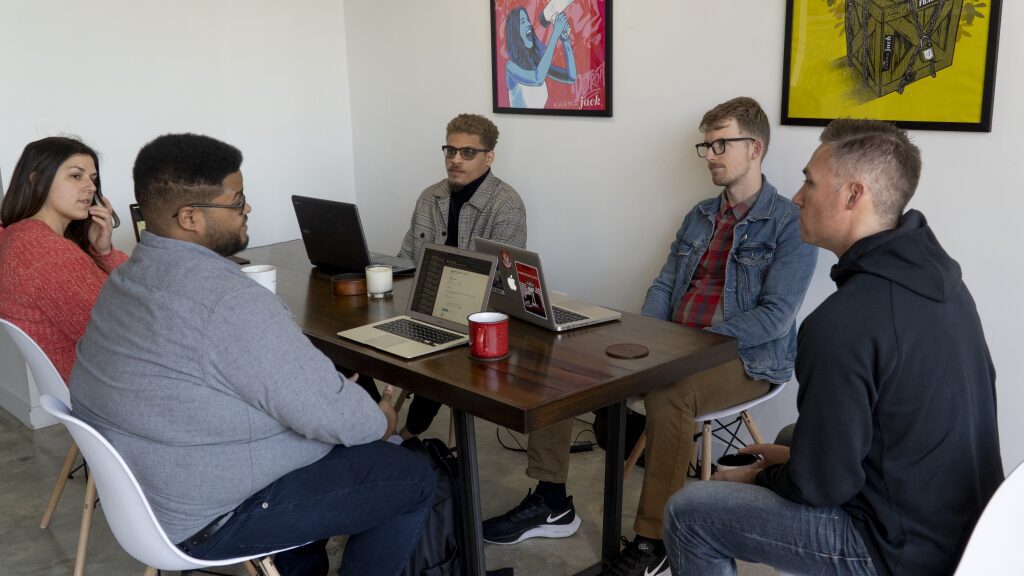 First impressions are crucial. After all, you only get one shot at them! The "Welcome" email campaign is the perfect opportunity to get off on the right foot and connect with your audience. How do you make this happen? Your first step is an enticing sign-up form. 
Your email sign-up form on your website needs to be attractive to new visitors. What makes them want to sign up? Doing more than just a generic "Sign up to receive news and updates" type of form will go a long way in building leads. Consider adding some life to your copy and throwing in a promotion. "Stay in touch and receive 10% off your first order" is a lot more enticing than "sign up today." Remember, this is most likely going to be the first real interaction they have with your business. Make sure they want to back around again for the long-term.
Now that they've subscribed, it's time to get your "welcome" series of emails sent out. There's a few key elements that make for successful welcome email campaigns. First, you want to give an informative and succinct overview of your company and what you offer. Don't overload them with too much right away. Give them pertinent and exciting information that makes them want to learn more on their own. Finally, give them a time-sensitive offer to get them to make a purchase sooner than later. This can be a thanks for signing up with a discount that is valid for a short period of time.
That should be the content of your first email. A well-planned welcome series should typically be around seven emails total. After the intro email, you can start diving into more specific info about your products. Your second email is a great place to introduce a problem that your products solve. Think along the lines of, "Are you tired of (insert problem)? We can help!"
From there, you can start showcasing specific products, best sellers, and relevant information to your subscribers. The final email in your welcome email campaign should be reserved for a specific call to action. Do you have a referral code you can send your loyal email subscribers? This is an ideal spot to implement one and let your audience play a part in growing your business. 
For the timing of the welcome series, it's a good idea to send the first three emails on a daily schedule with a new one going out each day. After that, moving to a weekly newsletter is right in the sweet spot for maintaining a genuine connection without bombarding their inbox.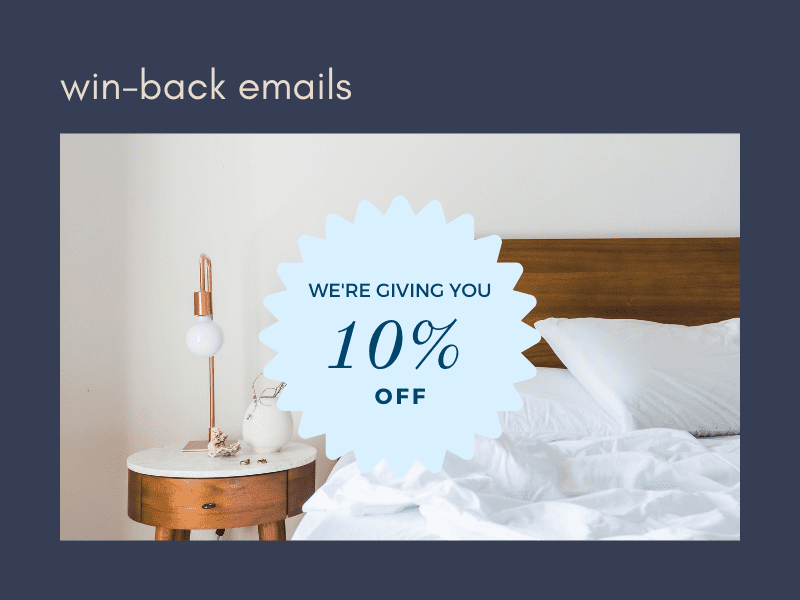 Has it been a few months since a customer has purchased anything? Are they engaging with your business at all? If you're struggling with these issues, it's time to implement the Win-Back email strategy.
A Win-Back email campaign is most effective when it's somewhere between 1-3 emails in length. You want to get disengaged previous customers interested again without being too pushy. Essentially, you're letting them know you have noticed their absence and you still care about getting their business.
The question you have to ask yourself is: what will incentivize them to engage with your business again? Win-Back emails are at their best when you can offer more than just news or updates on your business. Is there room for a small discount? Or how about free shipping on their next order?
This is also a perfect opportunity to use personalized content. What was the last purchase that customer made? Do you have similar products they might like? What items have they browsed in your online store? Use this information to your advantage. Using specific, targeted content is more likely to succeed than a run-of-the-mill email asking them for business again. Make it worth their while.
It's important to remember not to beg anyone in your Win-Back emails. Never sound desperate or negative. The tone should always be positive, warm, and welcoming. Trying to guilt a customer back into supporting you not only doesn't work, it's detrimental to your image. 
If you plan on creating a series of Win-Back emails (again, max it out around three at most), it's a good idea to save the best for last. If you've got a hail-mary discount to offer, save it for that third email. It's also in your best interest to make any discounts time-sensitive. Remember, you're trying to get them back on board because they've been MIA for a while already. If you leave your discount open-ended, they will probably put that off indefinitely, too. That sense of urgency is important!
If you get to the end of the line and your Win-Back series isn't clicking, you should move on. However, don't do that without completing one last step: give them the option to unsubscribe right up front if they don't want any more emails from you. The silver lining to this is that you get to clean out your list of any low-quality leads. When that's out of the way, you can focus your time and effort on leads that are actually worth your time. 
So how long should you wait exactly before sending out a Win-Back campaign? In large, this depends on your products and industry. Clothing companies can get on this a lot quicker than something like computers or electronics. Customers buy clothes regularly, but few people are spending money on a new laptop every couple months. But the general timeline is around 90 days of no purchases. By then, you can safely assume they're unengaged and you need to win them back.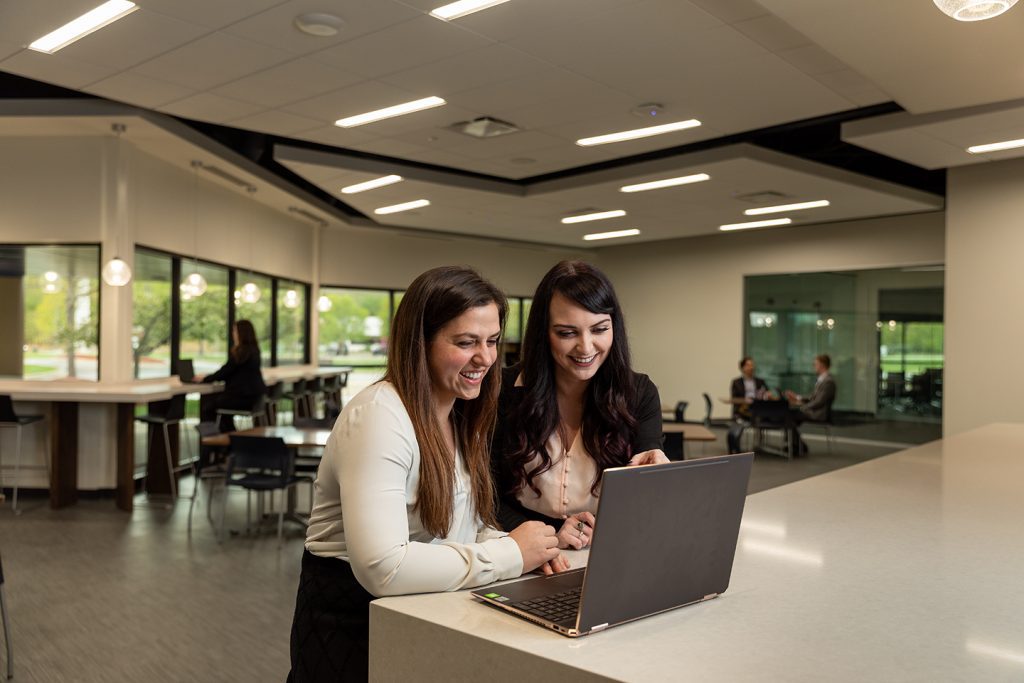 When a potential customer visits your online store and adds an item to their cart without purchasing, it doesn't necessarily mean they changed their mind completely. Many times they are just on the fence about the purchase. Maybe something came up and they got busy. Maybe they're scoping out your competitors to see if they can make a better offer. Whatever the case, it doesn't mean you should write them off as a lost customer. This is when you use the Abandoned Cart series to pique their interest again. 
An Abandoned Cart strategy can be anywhere from 1-3 emails, but definitely no longer. One common method is startiny by sending them a reminder email one hour after they abandon their cart. This can serve as a reminder that their items are still there, and it might just be the extra nudge they need to make the purchase.
You can follow up on this again several hours later as a second reminder in your Abandoned Cart series. This is also a good time to include some copy regarding any questions they have. Are there any questions you can anticipate and answer them preemptively, such as shipping costs or product ingredients? Alternatively, you can simply include text letting them know you're just one quick email away to answer any questions they might have. 
A third and final email is your place to play your best cards, so to speak. Consider throwing in a discount or possible free shipping on their order to nudge them in the right direction. Similar to the other ecommerce emails we've mentioned, you also need to make it time-sensitive. A 48-hour window on free shipping is one way to give them one last chance to make a purchase. At that point, it's better to get a sale at a discount than risk losing them for good. Using a short window of time to incentivize them also means they're more likely to go through with their purchase. Otherwise, it's just another email they can tune out and get back to later if they even happen to remember about it.
Tips For Abandoned Cart Emails
It's important to get right to the point with these types of emails both through the text and the visuals. Don't bog them down with too many lines of copy, call-to-actions, or images. You want to direct them back to their almost-purchase as conveniently as possible. 
Not every visitor to your website is going to convert into a sale. But implementing an Abandoned Cart series can easily bump those conversion numbers way up. It's great for making a quick sale, even if it's at a slight discount. Plus, you're putting your best foot forward and letting them know you care about their business. If you can do this, you have a much better chance at convincing them to stick around as a returning customer. Sometimes all it takes is that first sale!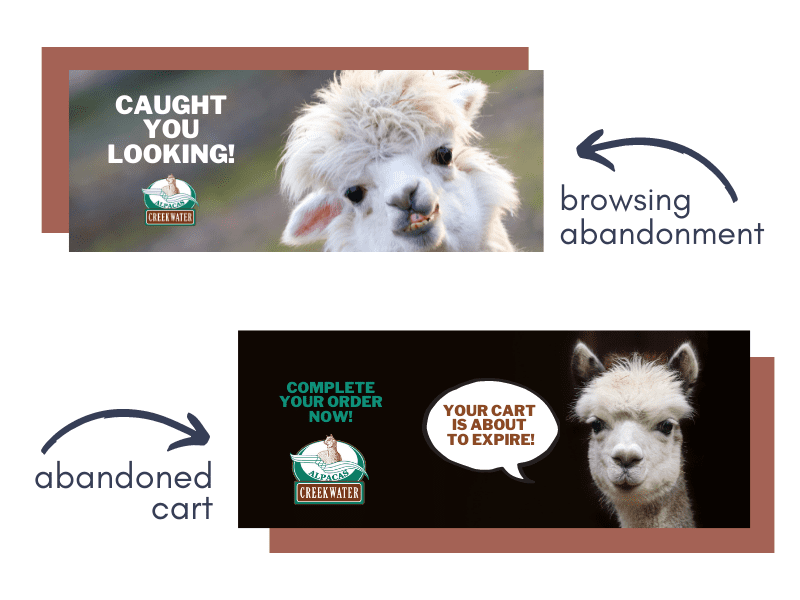 Browsing Abandonment Emails
Another aspect of ecommerce email marketing is for visitors that browse your website and view your products. Similar to Abandoned Cart emails, this is used when someone shows interest but doesn't make a purchase. 
Just like the last section, you're going to want to keep this short and sweet. One or two emails is all it takes. Anything more than that might end up frustrating a potential customer and come across as desperate. 
There's a couple ways to use this one. If you stick with one email, you should schedule it to send out later that day after they've browsed your store. This is just to get them interested again and take another look. You can also remind them that you're happy to answer any questions they might have. 
Your second option is to use a follow-up email and offer a discount to try and sweeten the deal. However, you should weigh the pros and cons for this method. For example, you might already offer a discount during one of your Abandoned Cart emails. If that's the case, do you also want to offer a discount here? Are you running the risk of making too many sales at a discounted price to make it worth your while? Make sure to figure out ahead of time what is going to be the best fit for your business when using the Browsing Abandonment emails.
Even after someone has made a purchase, there's still work to be done. Ecommerce email marketing also needs follow-ups after a purchase to really make the most of every interaction. Plus, it's an easy way to stay connected with loyal customers!
Post-purchase follow emails can accomplish a variety of goals. Is your business trying to gain more positive reviews? Schedule an email a week after purchase asking them how they like the product. A quick reminder is often all it takes to get a satisfied customer to leave a glowing review. 
Do you have a referral system for your ecommerce business? Post-purchase follow-ups are the optimal place to use these. If you've got a happy customer that recently made a purchase, try incentivizing them to spread the word. Offer them a discount for sharing a referral code and watch the leads fall into place.
With all of that said, it's a good idea not to get too pushy about making another sale immediately after someone makes a purchase. You don't want to overwhelm them, after all. Sometimes a follow-up email after a purchase can be something as simple as a genuine "thank you" for their support. It's great for your branding image and let's them know you appreciate them. 
Does your sign-up form include a birthday section for subscribers to fill out? Birthday emails are great for ecommerce. You can send these out the day of their birthday and wish them a special day, and even include a promo code or discount. Birthday emails are an easy way to stay engaged with your customers and make routine sales.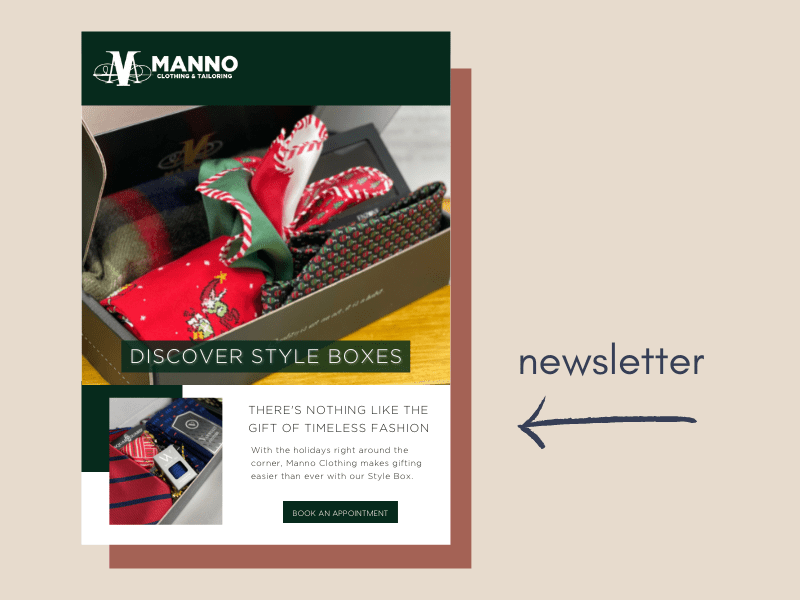 Want to maintain a regular connection with your customer base? Monthly newsletters are the simplest way to do this. You can use these to inform your subscribers about new blog posts, import updates, new products, or anything else of value that they should know. It's also a great way to capitalize on seasonal products or promotions you're running.
Monthly newsletters can be done once or twice a month. It's best to keep the focus on a specific idea or product most of the time, but you can also include some additional items underneath your main point. But remember, your monthly newsletters are not your online store. They're a means to get customers to visit it. That means you don't want to clutter up your emails–visually or verbally–with too much going on.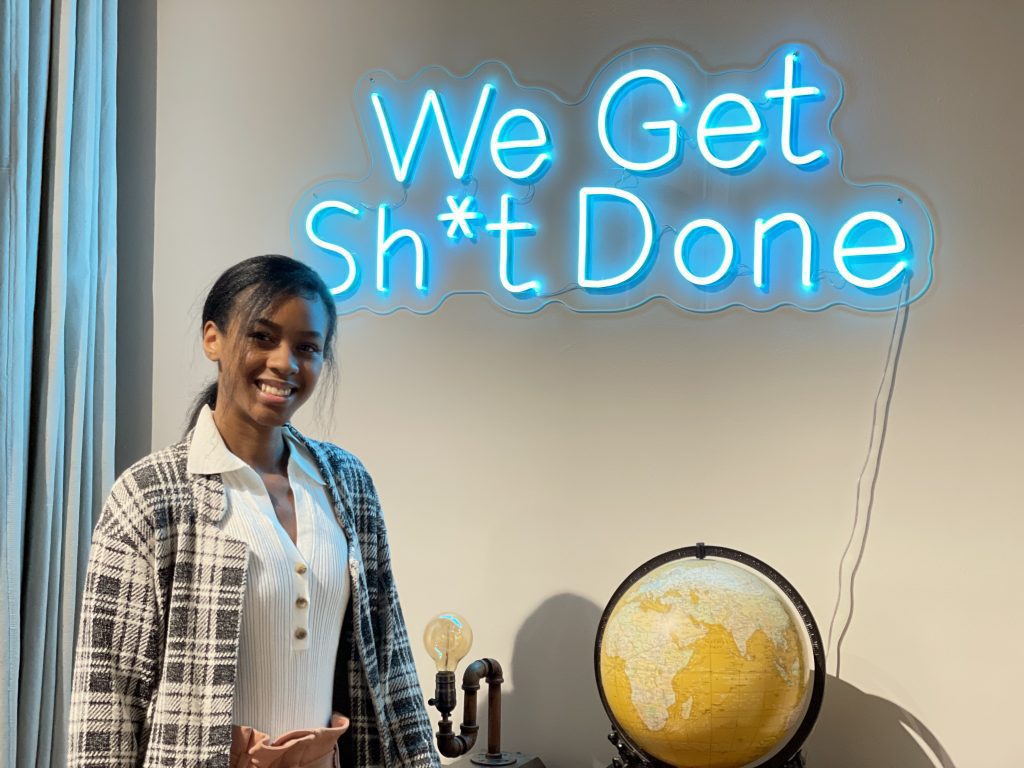 Email Marketing For Sustainable Growth
Did you know email marketing can attribute up to 40% of a company's total revenue? Our team of experts handle all of it so you can get back to running your business. Using data-driven strategies and our experience for getting real results, you can rest easy knowing you're in good hands. Let's do this. Contact us today!